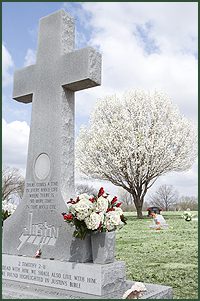 When a casket is used, our traditional ground burial cemetery grave spaces are currently priced from $900 each. With available cemetery property to form any size individual & companion grave spaces, family burial plots and private family estates we meet your immediate needs for any grave space selections and costs.   Additionally private mausoleums are available with extremely affordable rates which these cemetery choice offer unique and cost savings benefits for cheaper burial options.   We meet your immediate needs for grave spaces, and assist in pre-planning for future cemetery needs.
Rolling Oaks Tulsa burial plots and graves spaces costs encourage personality in memorials headstones and monuments.  Most Tulsa cemeteries limit your choices with mere flat cemetery grave markers on granite. Rolling Oaks assists you with customized monuments and headstones to your specifications.  Our selection of upright; hearts shaped and tear drop monuments, these Monuments should be as unique as the person it represents, forever.
Burial Spaces for Cremation Ashes
Many people overlook the importance of cemetery property for those who choose cremation, but permanent placement, or "final disposition" of the ashes  or "cremated remains" is an important part of final arrangements.
Call 
(918) 299-5705
or email our cemetery desk today, to learn more about our affordable cemetery burial choice, committal services, pre-payment plans.  We will help you make the best and affordable burial space choices.