Our Tulsa Cemetery Cremation Burial Gardens provide a place of peace and beauty for a gathering of family and friends to celebrate life as well as a place to return time after time. A gathering may be small and intimate or an entire committal service can be conducted at the Cremation Garden Burial site. We will demonstrate the many unique and individual choice available to you.
Benefits of Cremation Garden Burial are:
The committal service may be arranged to suit schedules of families and friends who do not live in the same city.
A committal service can be planned much like a reunion, when time, weather and travel are best for all.
Choose a favorite season or select a meaningful date or Holiday.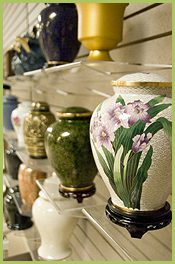 Rolling Oaks Cremation Garden Burials provide a pedestal for the cremation urn, guest register and a floral arrangement at the committal service burial site keeping it lovely yet simple. Family and friends are welcomed to participate in covering the cremation urn or small cremation burial vault.
Our specialty cremation garden burial spaces allow for unique selection of the permanent memorial headstone marking the location of the cremation urn burial. Easy paved access to our specialty cremation ash burial garden enhances the value of these affordable Tulsa cemetery burial choices.
"I know it did my heart good to take part in the return to earth service we had for my Father. For me, participating comforted me feeling much less disconnected, like he was not out of reach and now gone for all time. My participation brought him closer, helped me with my mourning and grief."  lmw 8/23/2010
Each single urn interment space includes opening/closing costs, a 20"x10" grey granite flat monument with vase.
Monday - Friday from $1,800