Rolling Oaks Memorial Gardens is highly rated by families.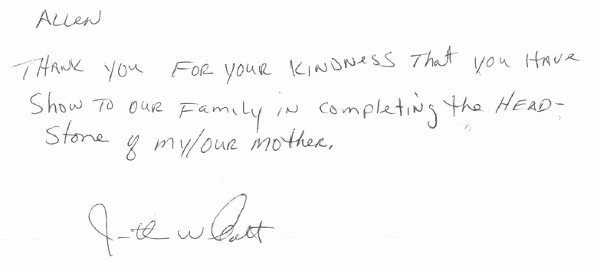 2020-12-15
They did a wonderful job on my father's monument. It's prettier than I thought it would be. I'm so happy with it.
Melissa Higginson
2020-12-09
Alan Was Patient, Knowledgeable, & Most Of All Caring!! I Absolutely Love The Black Granite Stones A Heart For My Sister & Double Hearts For My Parents Beyond Beautiful!! Alan Was Accessible For Any Concerns I Had He Is Outstanding In His Approach To The Upkeep!! The Cemetery Is Always Landscaped In Pristine Condition!! When The Adjoining Church Bell Chimes It Is The Most Serene Peaceful Experience!! This Christmas 2020 I Ordered The Most Exquisite Grave Blankets Decorated Beautifully To Remember Happy Past Christmas Memories They Are Absolutely Stunning!! Alan Made Sure They Were Carefully Placed!! I Highly Recommend Rolling Oaks Memorial Gardens Cemetery It Is An Absolute Jewell Still In The Tulsa Area Very Quite A Place Of Beauty To Visit My Precious Loved Ones!! Janet Modaff ♥♥
Janet Modaff
2020-07-06
Our meeting was very pleasant and he was not in a hurry, as choosing a perfect site was important to my Mom.
Susan Bode
2019-06-26
Very helpful and accommodating when we had to choose a place for our son. His stone and bench were placed much faster than expected.
Heather Yates
2019-04-18
It's awesome that the cemetery allowed him to grieve through his loss by landscaping and in the end, he lays peacefully under his own tree......
Whitney Coates