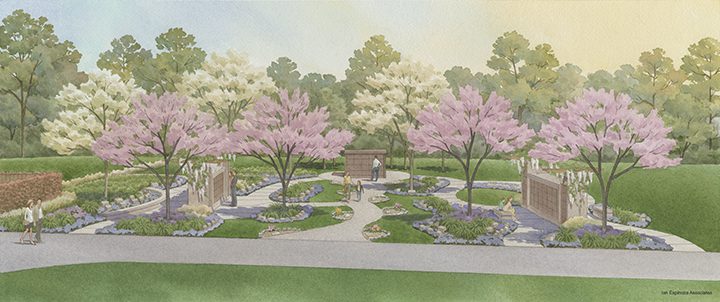 Rolling Oaks Memorial Gardens specializes in affordable cemetery spaces and cremation gardens choices. The affordable cemetery prices set us apart from other funeral homes and cemeteries saving you thousands of dollars.
Rolling Oaks Memorial Gardens cemetery features landscaped grounds with cemetery services that meet all your needs, from pre-planning to burial. Let us help guide you through the entire funeral process.
Cemeteries of Reflection in Tulsa, OK
Rolling Oaks Memorial Gardens is among the best cemeteries in Tulsa, OK. If you're seeking a cemetery where peace and rest prevail, look no further. Visit us at 4300 E 91st St Tulsa, OK 74137. Call us for help at (918) 299-5705.
A funeral or memorial are services intended to honor the memory of a loved one that has died. Family, friends, and community all gather to remember the deceased. The act of coming together is a powerful experience reminding all of the bonds of love and relationship that they commonly share. Gathering for a tribute service at cemeteries in Tulsa, OK allows those who grieve to share their sorrow and pain with others who may feel the same. No one needs to shed their tears alone.
Rolling Oaks Memorial Gardens understands the significance of sharing the burden of losing a loved one in a commemorative way. Whether your family is planning a funeral service in the moment of need or preplanning for some distant future need, our team of funeral care experts can help. As you make your plans, here are a few things you'll want to consider as part of the process:
Planning Purpose
The main purposes of funeral and memorial planning are to care for the mortal remains of the fallen and to honor their life and memory. Just as no two people are exactly the same, no two tribute services are either. The goal of any service is to remember the fallen, care for their remains, and bring comfort and support to surviving family and friends.
Disposition Styles
The primary methods of dispositioning the deceased's remains are via casket burial or cremation care. There are variations in these methods. You can choose the care that best meets your family needs. Here is a brief explanation of several options:
Earth Burial: The remains are casketed and buried either above or below ground. Burial above ground is done by entombment in a mausoleum or sepulcher. Burial below ground is in a plot of earth. In both scenarios, a casket is needed. Additional requirements include a fixed burial location, a liner or vault, and a grave marker or plaque.
Green Burial: This style of burial is also known as a natural burial. It is increasing in popularity among those who wish to minimize the impact of death on the earth in the long term. Environmental concerns motivate many to forgo the traditions of embalmment that preserve a body but will eventually leak into the soil.
Cremation: Using heat and open flame, the body of the deceased is reduced to ash and bone. The remains are then processed for uniformity and can be placed in an ash container such as an urn. Ashes are also commonly scattered in a special place where allowed. Some families will use ash as material to make keepsake jewelry.
Flameless Cremation: Not yet widely available, but slowly growing as an option for disposition of the deceased. Instead of using fire to return a body to its elemental state, this method uses alkaline hydrolysis by using pressure and applying low heat. The result is a liquid with residual bone fragments that are washed and processed for uniformity. This method is much more environmentally friendly than traditional cremation.
Our funeral care experts can answer additional questions about these methods of disposition as they apply to cemeteries in Tulsa, OK. Contact our dedicated staff for a conversation as needed.
Personalized Service Planning
In any commemorative service, the experience should be a highly personalized farewell. Your family's decisions about the services will be remembered by all who attend, including yourself. That's why planning should involve the story and life experiences of the person who has passed on. The memory of who they were in life, including their character, personality, hopes and dreams, achievements, setbacks, and relationships are all so important to the occasion.
Faith traditions and cultural practices should also be incorporated into the service. These life frameworks provide structure and meaning to many families and individuals. In the absence of religious belief, any worldview can be utilized to define the funeral or memorial experience. It can guide how the services should be carried out.
Consider the following questions as you plan the service:
Is it appropriate to share any readings from scripture or sacred text?
Will poetry or other poignant excerpts of literature add meaning?
What kind of music should be included, if any?
Should a eulogy be delivered?
Will those who attend need a meal or refreshment after the service?
Do services need to be broadcast via the web to those who cannot attend?
Can video or audio recording be available?
The most important part of personalizing any commemorative service is to make sure the individual who has died is central to the tribute. Sometimes, ceremonies and proceedings can overshadow the life story of the deceased. Be sure this does not happen, as it can be hurtful to those who come to say goodbye to their loved ones.